Gub and Bug have decided that they will be helping me in showing other handlers on how to pack a wyrm for shipping

. I know this is a lot of information but I just want to make sure everyone's fluffs stay safe during shipping. I even include info at the end on what are the best services to use and how to use online shipping.
I want to preface this with don't ever be afraid of shipping. I promise it isn't that scary and most of the time USPS can be awesome. I have shipped 2000+ packages of glassware out and have had 2 come up broken. The only time I have had packages "lost" have been when I was given the wrong address. Most of the time USPS will send it back or hold it at the office.
-Supplies you will need-
Box
-For teacups/teaspoons I highly recommend the 6x6x6 boxes you can get at Wal-mart they only cost $0.48 (there are larger boxes there you can use for mini as well).
*I DO NOT RECOMMEND padded envelopes or the small flat rate boxes (99.9 percent of the time you can ship cheaper not in a FRB). I find it is not worth the risk to ship a one of a kind item in either of these no matter what packing materials are used.*
Bubble wrap
- I find it is important to wrap the wyrm in bubble wrap before placing them in the packing material.
Packing material
- This can be packing peanuts, packing paper, stuffing, newspaper (PLEASE make sure the wyrm is wrapped in bubble wrap if you use newspaper the ink will transfer), or even plastic bags.
Tape
Marker or fragile stamp
Gub and Bug all ready to help with packing. Gub more unwilling though.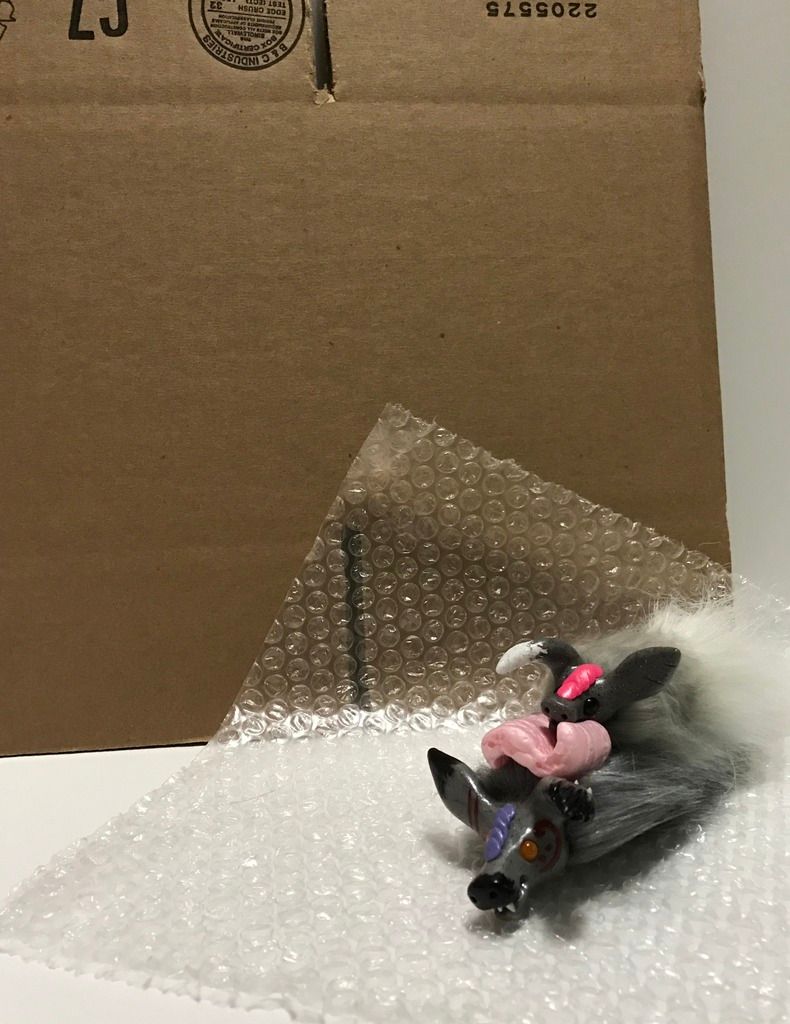 First take a square of bubble wrap and roll your wyrm up
. Do not make this too tight. Putting too much pressure can break a wyrm.
Place a piece of tape in the middle and slightly fold up the open ends and tape them down. again mind how tight you are folding up the ends.
Put a layer of packing material at the bottom of the box. I normally use packing peanuts but am using packing paper since a lot of people don't have access to packing peanuts normally. Then stick your wyrm in the box. You can fold the body a bit to make the wyrm fit nicely. make sure the head does not touch the side of the box. This keeps it away from danger in case the post office squishes the box any.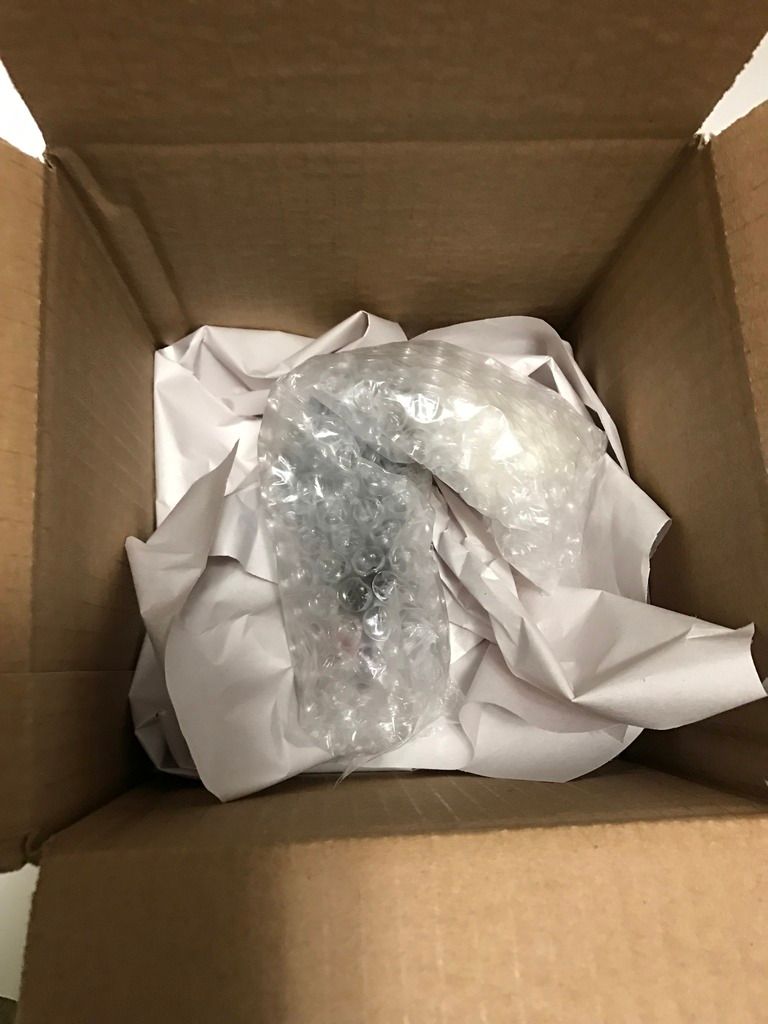 Take your packing material and put it around your wyrm. Making almost a nest for it
.
Fill the rest of the box with your packing material close and seal the box. Again don't make the packing material too tight. You don't want the wyrm flying around in the package but you don't want it so tight that the wyrm has no room to move and things will snap off. If you have to struggle closing the box it is WAY too tight.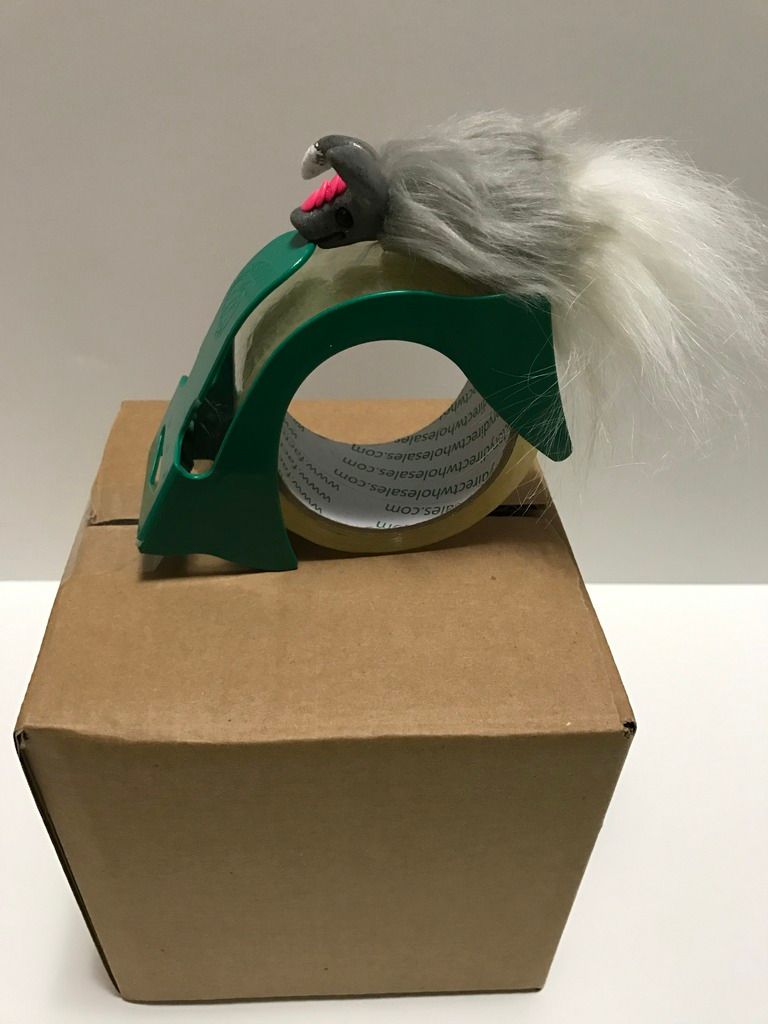 Now it is time to stamp (or write) fragile ALL over the box. I totally mean all over. I do this with all my glassware packages. I feel safer when shipping them. I like to think this is the reason I have had so much luck with no broken glassware over the years.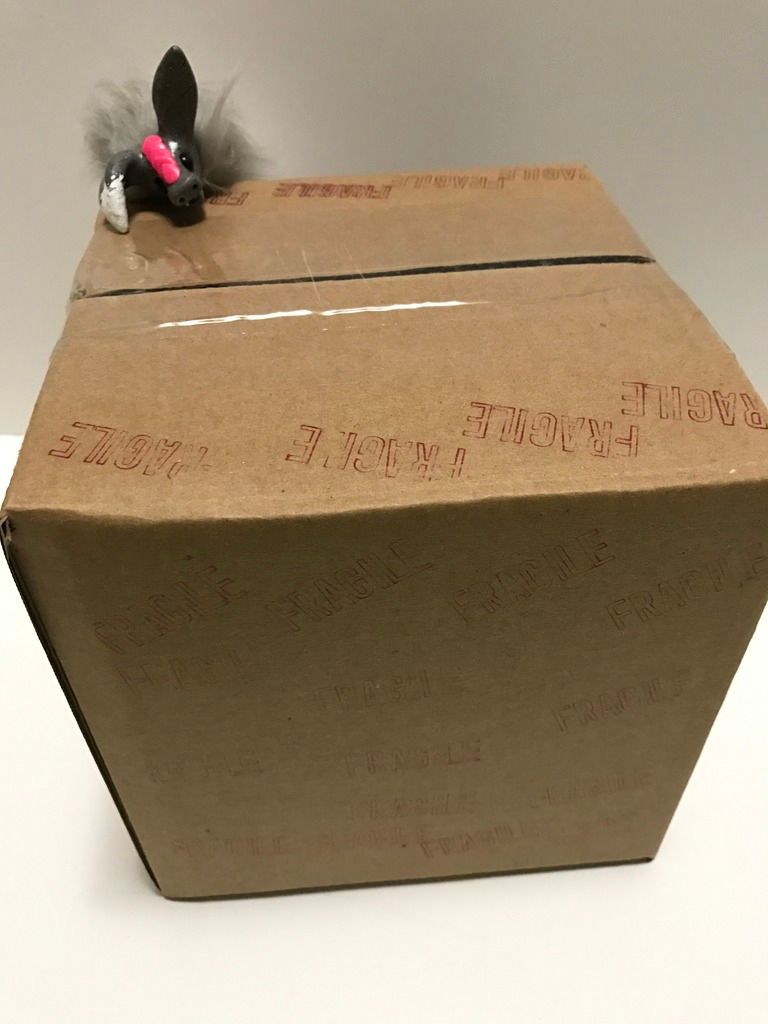 Then your package is ready for shipping! I normally print all my labels online. Now I have a postal scale (which was the best thing I ever got). I know that isn't really something most have but if you do online shipping is the best. You CAN print labels from paypal without having someone make a purchase by doing this.
1. Go to Multi order shipping
2. Once the multi order pop up loads you will see a "getting started" pop up from that. Choose create and enter all the shipping info and then save and close. The label will be ready for you to buy and print. (If the getting started does not load to file and create new orders and follow the step above).
Most single wyrms will ship first class because they don't weigh more than 16oz. I normally can ship a wyrm for under $4.00. This is why I always tell people unless you are shipping something super heavy (3+ pounds) really far flat rate boxes just aren't the best.
*bonus picture*
Bug rescuing Gub from the box
.